SNUG
Jump to navigation
Jump to search
system-99 user-group (snug)
Contacts: Harold Becker in Mannheim and Harald Glaab in Aschaffenburg, both Germany.
Produced hardware (with supporting firmware) for the TI99/4a community.
"The products offered are created exclusively in their free time by our Club members and assembled at home and offered at cost.. Because of minimum parts orders, we offer these cards to our members first as needed and any surplus cards are offered to non-members and other users-groups without profit at cost."
External website of SNUG: http://home.arcor.de/system-ninety-nine-user-group/home/index.htm
The SNUG external website contains files ending .p99. These are TI Program files. You can download them to your PC and then transfer them with a communication program to your TI. They are "TIFILES" so they will transfer appropriately (this paragraph taken from FAQ contributed by mizapf).

Products include:
ASCSI
Advanced SCSI Card. Produced 1997, Listed as sold out.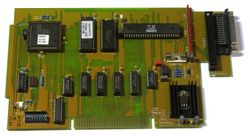 Compatible with the WHTECH SCSI-Controller
Up to 7 SCSI-drives is supported, with the actual DSR with a capacity of up to 248MB per drive
Other SCSI devices (CD-Rom, Streamer ...) are supported but the actual DSRs are not available.
High speeds through P-DMA
Easy update of the DSR through FLASH-EPROMS
Usable with the original Console or SGCPU
The card was built around 1997. It was based on the WHTech SCSI card, however, improved with a MACH circuit and with a revised DSR. This rebuild was also a reaction on delivery delays of the WHTech card to Europe.
The card proved to be very reliable, useable with the TI or the Geneve, and very fast due to its improved DMA performance. It is based on the SCSI controller chip 53C80.
Credits for this card go to
Michael Becker (SNUG, hardware design, PLD development, documentation)
Jürgen Stelter (TIW, PCB design, component procurement)
Götz Feuerstein (Beta tester)
Wolfgang Betzl (TI-Club Berlin)
BwG
-Diskcontroller. Produced 1990. No longer available due to lack of chipset but second hand may be available.
Diskette Controller with Double-sided, Double-density capability
Supports up to four disk drives
Step rate is selectable
On-board clock software is compatible with the Triple Tech Card from CorComp.
Time stamp for each file in the FDS.
Display of the date and time on the Titlescreen
Emulation of the offered DSDD-Formats from Texas Instruments (16 Sectors per track)
Usable with the original Console or SGCPU
This was the first major hobbyist-designed card built for the German market, and was developed as a response to the collapse of Atronic as a local source for Double-Density floppy disk controllers.
Both CorComp and Myarc cards were still available at the time, but they were difficult to acquire in Europe.
The card and its DSR were designed by three individuals:
Michael Becker (hardware),
Christopher Winter (software),
Harald Glaab (Software).
Over 105 of these cards were sold, mostly in Europe, although a few of them were sold to US customers. The cards use the WD1773 FDC chip.
Production of additional units ceased due to lack of sources for additional WD1773 chips ..
EVPC
Enhanced Video Processor Card and release 2.
Commenced 1995, release two was still listed for sale in 2014.
Compatible with the Mechatronic 80-column card
Video processor v9938 or v9958 used
Simple update of the DSR through Flash-technology
Supports all of the graphics modes of the TI99/4A
Textmode is 24*80 columns
The different graphics modes are 512 * 424 pixels and up to 256 colors and 8 sprites.
Mouse support (not with the use of the V9958)
No external Interrupt cables necessary when use (REPL99x) in the original Console.
Usable with the original Console or SGCPU
HRD 16
High-Speed RAMdisk, produced 1998, listed as sold out.
Software compatible with the Horizon 4000 (tm) Ramdiskseries.
Expandable up to 3 Megabytes (which is more than 9 Ramdisks of 1440 Sectors)
In combination with the SGCPU transfer speed is doubled through the 16-bit Bus
DSR can be also placed in Eproms (not possible with actual Horizon ROS)
Backup power is through a Lithium battery (min. 5 years)
Better file security through a new method of reset switching.
Usable with the original Console or SGCPU
HSGPL
High Speed Graphics Programming Language Card. Please refer to article HSGPL
GROM / GRAM - Card with (up to) 18 module pages. Produced 1995, listed as sold out.
Up to 16 Modules in ROM and 2 Modules in RAM in the Peripheral Expansion Box.
Programming the Modules and DSR without removing the Card through Flash-EEPROMS
All of the storage area from Grom0 to Grom7 and Rom6000 is on the Card, no original-ROM necessary.
4-time ROM -banking for every existing GROM-Base.
No switches needed – Switching from Module to Module is by means of REVIEW MODULE LIBRARY(tm) or through the altered GROM 0 from Winfried Winkler.
Usable with the original Console or SGCPU
Requirements: 32K Memory and disk system.
SGCPU
Second Generation CPU Card. Produced 1996, listed as sold out.
Displaces the Console into the Peripheral Expansion Box
Keyboard inferface for MF2-keyboards (AT) with hardware reset and load interrupt
Joystick and original keyboard over an adapter supported
Optional cassette interface planned.
Memory expansion of 32 KBytes onboard.
Super-AMS up to 1024 KB is possible
All of the memory expansion is on a 16-bit Bus.
Support for further 16-bit peripherals is planned.
Optional: Support for single-step mode in the TI-Debugger,
load-interrupt is synchronized (only 1 pulse)
HSGPL and EVPC(2) must be used with the SGCPU as TI99/a is absolutely necessary!
SPVMC
Speech and Voice Memory Card. Produced 1999. Still listed for sale.
Standalone replacement for the Speech Synthesizer.
As many as 8 Speech ROMs of 64 Kilobytes each through emulation in Flash-Roms is possible. Switching is through DSR commands.
Complete Speech emulation in English from the Terminal Emulator II in DSR has been implemented (Winfried Winkler).
Easy update of the DSR and voice memory through FLASH-EPROMS.
Usable with the original Console or SGCPU